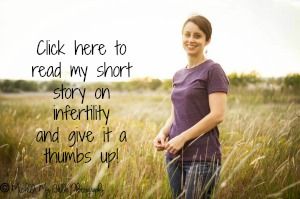 Well, friends, I was excited to receive an email today from
FamilyFiction
that my short story,
"Whisper"
, has made it to the top 200 stories!! Ever since, God gave me my story, Whisper, I have been praying that He would take it and reach people struggling through infertility or any difficulty to provide encouragement.
Now my story has been sent to a
panel of amazing judges
from the Christian Fiction Industry. From the top 200 which will be identified on their website, 50 will be chosen as semi-finalists and will be featured in a first-edition, printed anthology publication by FamilyFiction and available for purchase. Then nine stories will chosen as finalists and finally, one grand prize winner. There are various prizes and opportunities for the nine finalists, but I am just excited to be a part of the contest in any form!
How can you help? There will be one story that will win the People's Choice Award based on the number of "thumbs up" it receives. So I am simply asking you to give my story a thumbs up and share it with your family and friends.
Have a blessed Memorial Day weekend spending time with family and friends.