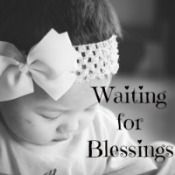 Please help Erin and I advocate for two precious boys named Anthony and Alex. Please keep them in your prayers as they patiently waiting for their forever family. You can learn more about them at Waiting for Blessings.
I would also covet your prayers for the following.
Prayers for our continued battle with Grace's psoriasis. I have seen the first spots on her face, and I want to get that under control quickly.
Also, Anthony is having his hand surgery in Dallas at Scottish Rite Hospital on Friday, October 11. They will be removing his floppy thumb and moving his index finger into the place of a thumb so that he will have the ability to grab with his thumb. He is obviously very nervous about as it is an invasive surgery. He will have a hard cast on for about 10 weeks, then a soft cast and occupational therapy to help him learn how to use his hand. We are excited to provide him with this opportunity for more mobility, but we know it will be long road fraught with frustration for him.
My precious boy turns 9 tomorrow. I remember this day a year ago as we were praying for him and thinking of him. We are so blessed to have him with us this year! I will do a post about his birthday tomorrow, but here's a little teaser of his first birthday party in the United States with his forever family. He said, "I have never had a party like this!!" :)
Blessings,