As I'm sure you all know, China is always on my mind. Of course, there are children waiting for forever families all over the world, China just happens to be the country that God put in our hearts.
In light of all this, I am very excited to announce that my dear friend, Erin Martin, and I are starting an advocacy blog called Waiting for Blessings. Click on the picture below to see our new blog!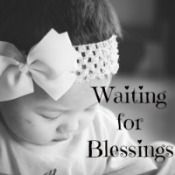 We want to share with you the precious waiting children in China that Erin had the privilege of meeting. Erin was able to go on the last
Superkids Charity
trip for
the Gladney Center of Adoption
with our other sweet friend, Pat Marcus. As you can imagine, she has many precious pictures and stories to share. Our hope is to raise awareness of these children and to introduce you to them so you can have a face and name to include in your prayers.
We will also be doings posts on various special needs to increase knowledge and understanding, and we would like to share other adoptive parents journeys with special needs to encourage others. If you have a story you would like to share, please contact us at waitingforblessings@gmail.com.
There are still a few missing pieces on the blog, but they will come in time. We just wanted to go ahead an introduce you to our site as this week Gladney is hosting the second of their webinars on waiting children from the Superkids trip!
There is still plenty of space in the webinar so sign up today
HERE
!!
If you would like to preview of some of these precious kiddos, please check out, Erin's blog,
God Has Answered
, and Pat's blog for the
Superkids Charity
.
Blessing to all!